Artist
Biography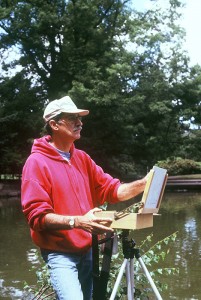 A native of California, born and raised in the Los Angeles area, Michael demonstrated an early gift in drawing throughout his youth. While attending high school, Michael was fortunate to be under the influence of a very supportive and dedicated art teacher who bestowed on many impressionable youth a broad perspective of the creative process. This ideal formation was an occasion for encouragement which opened up the real possibility of a life as a professional artist. At the end of his senior year, Michael was granted a summer scholarship to the Academy of Art in San Francisco which focused on drawing and painting.
In the fall of 1962, Michael made the choice to fulfill his military obligation. Upon the completion of his naval service, he took advantage of the GI Bill which made continuing art school affordable.Michael attended Clark College in Vancouver, WA, majoring in the visual arts for two years. He then went on to study illustration at the distinguished Art Center of Design in Los Angeles, CA, for two years, studying with such artists as Dan McCaw, Bill Robles and Don Putnam.
This training helped Michael to develop a professional career as an illustrator. He spent over twenty years in Portland, OR, in the field of illustration and graphic design, working with clients including Nike, Hickory Farms, Pacific Power, Tillamook Cheese, Kettle Chips, Oregon Tourism and Bonneville Power.
Finally the opportunity came to pursue his lifelong passion of fine art oil painting. Traveling to attend workshops in Santa Fe, NM, and Northern California for further study in landscape and figurative painting gave Michael confidence and experience in technique through inspiring artists such as Doug Higgins, Ron Rencher, and Kevin Macpherson. Through their guidance and direction, Michael achieved a deeper appreciation for the challenges of the pursuit of fine art painting.
Michael Carpenter's memberships have included the California Art Club and New Mexico Art League. He has been a member of the Oil Painters of America since 1994, attaining signature status.
Carpenter's paintings include subjects and locations in Santa Fe, NM, Northern California, Oregon and Washington states, and have been represented in these four states.
Michael has come to acknowledge the unique gift of a lifelong vocation as an artist, and to be truly grateful for the opportunity to bring inspiration and pleasure to those viewers who enjoy representational art.
Michael Carpenter currently resides in Oregon.