Artist
Biography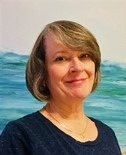 Susan Abell
Athens, Georgia
Visual art has always been an integral part of Susan's life. Though she considers herself primarily a self-taught artist, she has pursued a passion for the visual arts throughout her life. Since formally retiring from a long career as an elementary educator in 2014, this lifelong hobby has become a full- time pursuit.
Nature, in its splendor, constantly seizes her attention while providing a bounty of subject matter. Painting is Susan's way of connecting to her surroundings in a spiritual sense, while conveying a visual impression to others. Each artwork she creates reflects an actual experience and tells a story, as the beauty of nature in its varied forms provides limitless inspiration.
Her particular fascination with the variation in light and color found in the natural world compels her to paint impressionist landscapes. From the mountains to the shore, Susan is inspired to capture her impressions with a variety of media and techniques that will really resonate with viewers.