Artist
Biography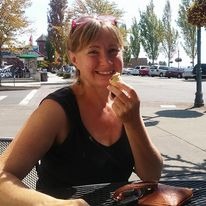 Christina Davis, I hail from the mountains of Northwest Washington. I have enjoyed life abroad long term in England and Thailand and visited many countries. A wife and mother of 5, I enjoy my family, home and now grandchildren. I am an avid gardener into poly/perma culture gardening.
My life is full but I have always loved things beautiful and have a great love for flora and fauna and the natural world around me wherever I am. The many cultures I have enjoyed have influenced my art and life and view of art.
Since a child drawing scenes from nature have always captured my heart. Botanicals are a favorite in my work. Capturing something of the beauty and wonder that surrounds us, to share with others is an ongoing challenge for me.
I believe art is more than just throwing something onto paper or canvas but involves observed and learned skills that are applied by the artist to portray a concept that is to be relayed to the viewer. In this we can always be learning from people and environments around. Art can come from things internal as well as things external and is meant to record history, feelings and things that could be, and captured in some tangible form to share with others. I believe we are all endowed with the ability to be creative and artistic in various ways.
Largely self taught but resourced by many other artists from various parts of the globe I continue to seek to grow in my knowledge and skill of art and artists. I have enjoyed wonderful instruction with Bellingham's artist Trish Harding at UFO Studio. I am currently studying with Barry John Raybauld's comprehensive Virtual Art Academy to learn in a more structured format. I enjoy many forms of art and love the works of many of the Russian painters and European impressionists.
I have painted and sold works in America, Canada and Great Britain (1991-2000). I spent time teaching children basic art principles in local schools. (2004-2006, 2015-2016, 2017, 2019) Occasionally participate in juried art shows. Pre-Covid I showed regularly in local shops and business.
Thank you for taking time to view my work and read about me.